BARN RUNNER 4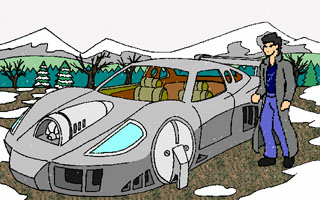 The Prick Who Came In From The Cold
Version 1.2
Released December 20 2004
This game is made in the style of the adventure games of yesterday where you collect items you find along the way, talk to people you meet in your travels, and pay close attention to clues in your environment. Of course, as this is just a small game, there are only about a dozen items to find, only one person to talk to, and a rather limited world to explore.
This game also provides a great deal of back story for the Barn Runner universe (though you'll have to do a lot of looking around and ask a lot of questions to find it all). For the die hard Barn Runner fan who wants to know more about the wacky world Prick inhabits, this is the game for you.
NOTE: This story is preceded by Barn Runner Xmas 0: Christmas Soup, and continued in Barn Runner Xmas 1: Cyclone Alley.
System Requirements
* Win 95/98, 2000, ME, XP, 7 or 8
* 64 MB of Ram
* DirectX compliant sound and video cards
* 500 MHz Processor
* 6 MB Hard Drive Space
Click Here To Download
(1.6 Megabytes)
(This game is compressed with WinRar. If you don't have that utility, click HERE to get a free program to unpack it.)
---
Free Goodies for
The Prick Who Came In From The Cold
Complete Walkthrough for Game 4
---