BARN RUNNER XMAS 0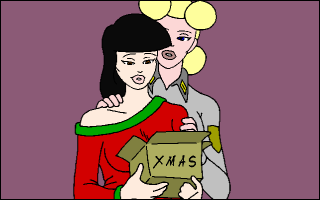 Christmas Soup
Version 1.0
Released December 20 2009
My first game that features someone other than Prick as the player character, this short game showcases the domestic holiday adventures of Noriko and The Chief as they try to get everything ready in time for Christmas. But be warned, this mini-game has quite a bit of cheesecake semi-nudity.
It is NOT recommended for younger audiences.
And for those of you who care about continuity, this mini-game takes place a few days before Barn Runner 4: The Prick Who Came In From The Cold.
So what are you waiting for? Download and enjoy!
System Requirements
* Win 95/98, 2000, ME, or XP
* 128 MB of Ram
* DirectX compliant sound and video cards
* 500 MHz Processor
* 13 MB Hard Drive Space
Click Here To Download
(1 Megabyte)
(This game is compressed with WinRar. If you don't have that utility, click HERE to get a free program to unpack it.)
---
Free Goodies for
Christmas Soup
---