BARN RUNNER HALLOWEEN 1
(This Game Has DLC Available For It. See Below.)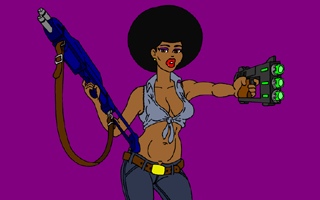 Fully Automatic Mojo
Version 1.0
Released December 1 2010

Sgt. Debbie finally gets her turn as the player character!
This short arcade game features eight levels of driving, shooting, pipe-crawling action in which Debbie must journey to the lower levels of the city and save Prick from the mutated monsters that dwell down there. It has three difficulty levels (at least!) and four different endings (at least!). Packed with amusing cutscenes and monsters shamelessly lifted from Hollywood movies that I loved as a kid. Plus, just look at that shirt! Debbie can't possibly be wearing a bra!
So are you manly, er, girly enough to save our favorite lazy detective? Download and find out!
System Requirements
* Win 95/98, 2000, ME, or XP
* 512 MB of Ram
* DirectX compliant sound and video cards
* 1 GHz Processor
* 50 MB Hard Drive Space
Note: This game has slightly larger requirements than the usual Barn Runner games. What can I tell you? Some of these scrolling screens are huge and there are lots and lots of bad guys on the screen at once. I try to keep the resources need for these games as low as possible so that everyone can play them. But in this case, this is the best I could do.
"FULLY AUTOMATIC MOJO"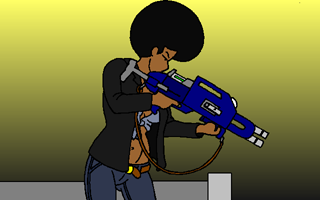 Click Here To Download The Game
(4.5 Megabytes)
(This game is compressed with WinRar. If you don't have that utility, click HERE to get a free program to unpack it.)
=======================================================================
"AGS Awards Special Edition" (DLC)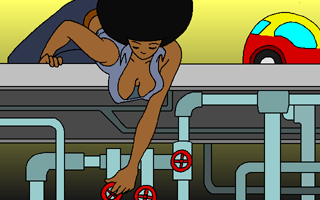 Click Here To Download The DLC


(9.7 Megabytes)

This DLC adds three more levels to the game, several new cutscenes, and replaces the original set of different endings with a single new (and much sexier) ending that you'll get regardless of the difficulty level you choose.

(This patch is an executable file. To use it, just run the file and point it to the same directory that you have installed the game. It will overwrite your saved games and you'll need to start a new campaign to access the new content)

"PIXELWEEN 2010" 2nd Place Winner



AGS "Pick O' The Month" December 2010
NOMINATED FOR "BEST NON-ADVENTURE GAME" FOR THE 2010 AGS AWARDS
---
Free Goodies for
Fully Automatic Mojo
The Pixelween 2010 "Fake Screen Shot" That Inspired This Game
Easier Difficulty "Treats Patch" (Doesn't Work With The DLC Pack)
---