BARN RUNNER VISUAL NOVEL 1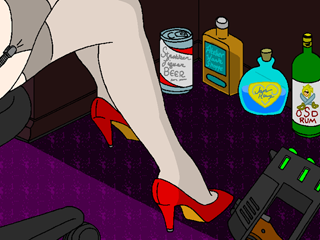 The Mayor's New Dress
Version 1.1
Released August 6, 2012

Mayor Marguerite DuChamp gets her turn in the spotlight (in more ways than one).
This game stars the mayor of Arc 19 and her best gal pal, The Chief. It's done in a visual novel style and there's no real way to lose. Just keep clicking dialog options until you get to the end -- there are four endings in all. Some choices are worth more points than others and the higher your score, the better the ending.
This game was made for the July 2012 MAGS (Monthly Adventure Game Studio) contest. Since it was made under such a tight deadline, it's not a particularly complex game, and it isn't very long. But on the plus side, there are lots and lots of cheesecake shots of Mayor DuChamp (and a couple of other Barn Runner ladies, depending on which ending you unlock).
So are you ready to see a Barn Runner take on the old fairy tale The Emperor's New Clothes? Of course you are! So download the game already!
System Requirements
* Win 95/98, 2000, ME, or XP
* 512 MB of Ram
* DirectX compliant sound and video cards
* 1 GHz Processor
* 30 MB Hard Drive Space
Note: This game has slightly larger requirements than the usual Barn Runner games. What can I tell you? Some of these scrolling screens are huge and there are lots and lots of bad guys on the screen at once. I try to keep the resources need for these games as low as possible so that everyone can play them. But in this case, this is the best I could do.
Click Here To Download
(8.7 Megabyte)
(This game is compressed with WinRar. If you don't have that utility, click HERE to get a free program to unpack it.)


MAGS Entry For "Fairy Tale" July 2012
---
Free Goodies for
The Mayor's New Dress
---