THE FOREVER FRIDAY
ADULT MODE PATCH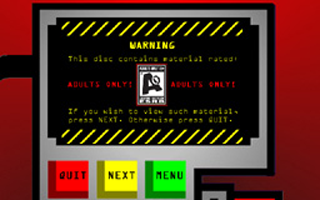 Adult Mode Patch
(233 Kilobytes)
This patch unlocks hidden, risque content in Barn Runner 5: The Forever Friday and the Barn Runner 5th Anniversary game. If that sort of thing sounds like something you'd enjoy, then by all means, download this file, follow the simple instructions that come with it, and you'll be on your way to seeing an whole new side of Prick Peckard's world.
If this sort of thing isn't up your alley, then save us both an angry e-mail and don't download the file, don't install it, and don't feel compelled to let me know how much you don't like boobs in your adventure games.
UPDATE
I received an e-mail from longtime Barn Runner fan FruityOatyGirl regarding this patch. She wanted to make sure that what it unlocked was going to be at least as funny as it was offensive ("like South Park or something" -- high praise indeed!). For those who share similar concerns, this patch isn't anything like the infamous "Hot Coffee" hack from Grand Theft Auto. It won't turn the Barn Runner world into some sort of seedy virtual sex simulator. At best, it adds some funny but risque jokes back into the mix, and at worst, it restores some mild nudity which totally fit the original scene(s), but was edited out just in case some people have a problem with the human body. I have no problem with sight gags or jokes involving stuff like that, but I know not everyone has the same tastes. If you're still on the fence about it, take at look at this picture, which shows Dr. Noriko as she appears in the dream sequence from chapter one, both in her original form and in the version used by the Adult Patch. As you can see, it's pretty mild stuff (for the most part) So decide for yourself. The manual that comes with the patch goes into greater detail, giving more or less a game by game listing of what to expect.
Download in RAR Format
(233 Kilobytes)
(This file is compressed with WinRar. If you don't have that utility, click HERE to get a free program to unpack it.)